Interconnected Router
Protect your security installations within minutes.
The SupraeNet router protects your technical installations from external cyber threats within minutes, making them securely accessible remotely through a closed and encrypted SSL connection. This opens up new possibilities in service for security installers and control rooms (PAC). No extensive IT knowledge is required to start using SupraeNet Interconnected Security right away.
Op klantlocatie zorgt de SupraeNet Interconnected Security Router voor een automatische VPN-verbinding met het Supraenet platform. De verbinding word geïnitieerd vanuit het klant netwerk (Van-binnen-naar-buiten) voor een cyberveilige verbinding. Dankzij de ingebouwde firewall en meerdere beschikbare netwerk-poorten kunnen de IoT-installaties ook worden gescheiden van het primaire netwerk.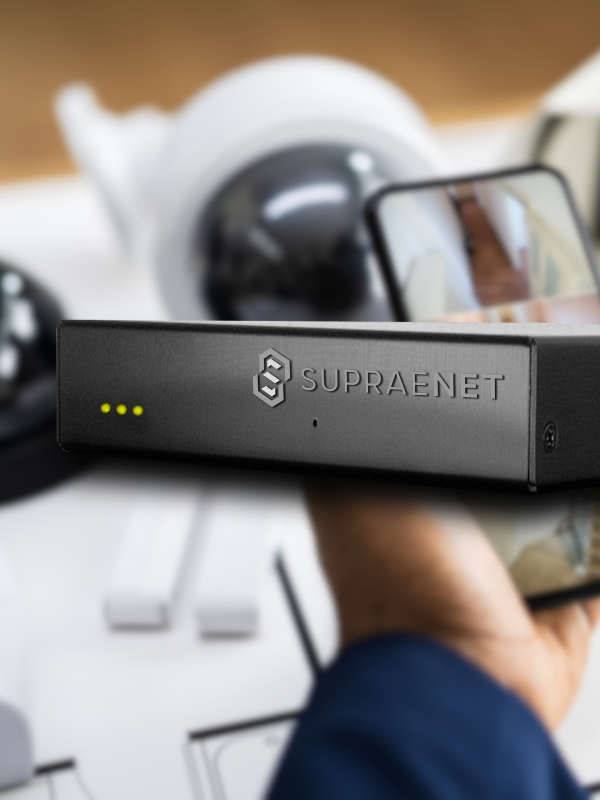 The SupraeNet Interconnected Router connects the IP Security network, including cameras, access, and IoT devices at a site, with the SupraeNet Cloud Platform.
Easy and fast upgrade of existing installations. A transparent secure IP connection to the SupraeNet platform is automatically established.
With the Supraenet Router, remote service, maintenance, and alarm verification can now be conducted securely from anywhere, at any time, without reliance on others.
ENCRYPTION & VPN
Automatic setup of a virtual private network (VPN), public & private key encryption, PKI-based infrastructure, state-of-the-art AES encryption, and crypto authentication.
MERKONAFHANKELIJK
Extensive support for video equipment, access control devices, and intrusion systems from brands such as Dahua, HIKvision, Hanwa, Vivotek, Mobotix, Axis, Bosch, Assa Abloy, Vanderbilt, and Avigilon.
Complex firewall settings, risky port forwarding, and fixed public IP addresses are a thing of the past with the SupraeNet Interconnected Security Router.